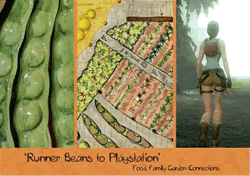 Garden Design Workshop with Children
Children from Cedar Integrated Primary School were invited by Celia Spouncer, parent and lanscape architect, to design a garden for Chelsea Flower Show 2004.
The theme of the show was biodiversity and environmentally friendly gardening. The children worked on scaled drawings.
Celia Spouncer produced one design from all the children's ideas to include a pond, a chess set, woodland, glass house and art features.
The garden design was accepted by RHS judging panel. Children suggested titles for their graden designs. We called it 'A Dream Come True'.
Working with Artists
The Garden project had 2 key elements - working with the children and growing the plants.
We selected 6 local artists to work with every child in the school. Art projects were linked the garden themes and included ceramics, decoupage, designs on linen and willow sculpture.
Children created collages from disused gardening magazines. Images were printed onto tiles and used to create cubes.
Every child in the school was involved in the Chelsea Garden Project through art, movement and poetry.